There's no doubt biochar can benefit many different types of soil. Due to its high adsorption and nutrient holding capacity, biochar can prevent both water and nutrients from leaching while still allowing them to be readily available to plants. These properties, which can significantly improve your soil's fertility, also make biochar useful in reducing water erosion and fertilizer runoff.
Still, you may be wondering how exactly you should use and store biochar for your specific application. The answer depends on a few things, like how fertile your soil is before applying biochar, or whether you intend to use biochar to grow crops.
Using biochar in near-term applications
Charging up your soil with biochar
In the rare case that your soil is already very fertile, biochar can be directly added to the soil. Biochar, however, brings the most benefits to soil when it is "charged" or inoculated with nutrients and soil microorganisms to help prime your soil for improved fertility.
Though many different methods for charging biochar exist, most procedures follow several basic principles, which include:
Containing enough moisture for nutrients to dissolve and adsorb to the pores of the biochar
Introducing a wide variety of nutrients
Inoculating soil-borne microbes through compost or other methods
Letting the charge progress at least 14 days, to allow beneficial soil biology to inoculate
Charging should be tailored to your situation. For most near-term applications, it is best to blend the biochar with a high-quality compost containing the biology that would most benefit your plants.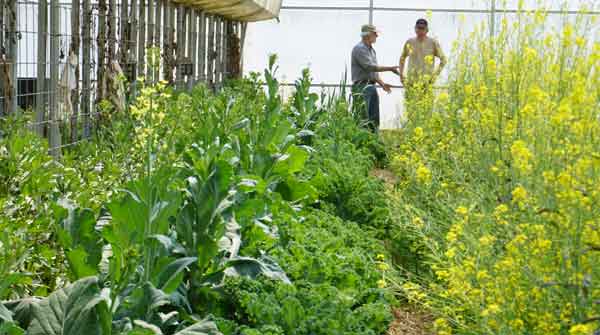 If you are not sure about the quality of your compost, you can try one of CharGrow's proprietary products, BioChar Source™ or BioGranules™. Both are charged, or inoculated, biochar that have already been loaded with beneficial microbiology and microbial food and have proven growing results. Field trials on growing media and soils in the United States have demonstrated that BioGranules enhances biological activity and plant performance when it is added at 2 to 3 percent by volume in growing mixes or 15 to 20 pounds per acre in row crops.
Incorporating biochar and compost into your soil
Compost can be mixed with biochar before being added to the soil or it can be worked into the field when it is being applied. In the latter case, the biochar would be laid on top of the soil first, then the compost, before they are mixed into the soil through tilling or other methods. The ratio between compost and biochar can be as high as 1:1 and the biochar is left to inoculate for at least a couple of weeks.
In some cases, the biochar and compost are partially mixed while they are being transported to a field. Here, biochar and compost is loaded into a truck in alternating layers before it travels to the field.
Alternatives to compost inoculation
Biochar can be mixed into a field intended for cover crops. Cover crops are plants that are grown to improve soil health and other aspects of soil for the crop that will follow (for example alfalfa that is grown prior to planting sweet corn).  After mixing in biochar, the native microorganisms already present in the field move into the biochar over several months. This method of charging has been especially successful when the cover crops are nitrogen-fixing legumes such as clover.
Biochar can also be charged with other materials such as liquid fertilizer
The best place to put biochar
The best location for biochar depends on your application.
If biochar is used as a soil amendment, you should work the biochar into the plant's root zone – the part of the soil surrounding a plant's roots – incorporating the biochar into 4 to 6 inches of soil depth if possible. This way, you will make full use of biochar's remarkable capability to hold water, retain nutrients, and host beneficial soil biology. Working the biochar into the soil also minimizes the chance that the biochar will be disturbed, dried out, or blown away.
If biochar is used to purify storm water, filter contaminants, or reduce erosion, you do not necessarily need to work biochar into the soil. In these situations, biochar is used in locations that are optimal for the specific needs of the project and often placed within containers specialized for each use case, such as landscape socks and filtration systems. For example, you can place the biochar where water is running off land, roofs, roads, or other contaminated sites – including those that are aboveground.
Best management practices when applying and storing biochar
Most biochar products have fine, dust-like particles that can be swept away by wind or water if proper precautions are not taken.
Wind
The best way to prevent your biochar from being lost to wind is to moisten it. This helps weigh down the biochar dust and is the reason why CharGrow's BioChar Prime™ product is pre-moistened prior to shipping (though customer moisture specs can be accommodated).
Whether or not you moisten the biochar yourself, you should always consider its moisture content when determining your application rate, as you may over- or underestimate the amount of biochar you require for your situation. You should always apply biochar in the right weather conditions and when winds are mild.
Water
Water can sweep biochar away, especially at sites with steep slopes or high rainfall. To prevent your biochar from being lost to water, you should properly incorporate the biochar into the soil or apply biochar with wetter materials such as compost or mulch, depending on the types of plants you are growing.